Chocolate Fountain Rental in NY, NJ, PA, CT




New York Sublime Events provides delicious velvety texture of warm flowing chocolate that will make your event a mouth watering success.

Indulge your guests with this delicious treat that they will never forget.
From a delightful selection of chocolate dips to an eye-catching custom made display, this chocolate fountain will surely be a sensation at your party.


We provided the Highest Quality chocolate fountain and we only use the best chocolate on the market.


Chocolate Fountains are available for:
Wedding / Sweet 16 / Quinceanera / Birthday Party / Anniversary / Corporate Event / Prom / Graduation / Engagement Party / Holiday Party / Fundraising Event / Communion / Baptism / Bar Mitzvah / Bat Mitzvah / Baby Shower / Bridal Shower / Family Reunion or any event.




We hold general liability insurance as well us food safety certificate, available upon request.



Bronze Package

Your Choice Of : Milk Chocolate / White Chocolate / Dark Chocolate / Colored Chocolate ( Fee May Apply )

Three Hours of Dipping Time
Professionally Dressed Attendant

Unique custom made display with a touch of excitement

34 inch high Sephra fountain

Napkins / Skewers
Set Up / Clean up / Removal
Select 11 Dipping Items from the list: Banana / Strawberries / Apples Red / Apples Green / Grapes Red / Grapes Green / Oranges / Oreo Cookies / Pink Marshmallows / White Marshmallows / Pretzel Sticks / Rice Krispies Treats / Twizzlers / Graham Crackers / Margherite Cookies / Sugar Wafer / Nilla Wafers / Chocolate Chip Cookies / Oatmeal Cookies

---
Call to reserve this chocolate fountain today:

718-744-8995 or 917-716-4565

---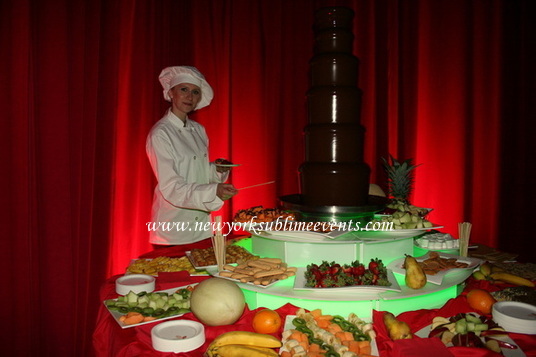 Silver Package

Your Choice Of : Milk Chocolate / White Chocolate / Dark Chocolate / Colored Chocolate ( Fee May Apply )

Three Hours of Dipping Time
Professionally Dressed Attendant

Unique custom made display with a touch of excitement
34 inch high Sephra fountain

Napkins / Skewers
Set Up / Clean up / Removal
Select 15 Dipping Items from the list: Banana / Strawberries / Apples Red / Apples Green / Grapes Red / Grapes Green / Oranges / Oreo Cookies / Pink Marshmallows / White Marshmallows / Pretzel Sticks / Rice Krispies Treats / Twizzlers / Graham Crackers / Margherite Cookies / Sugar Wafer / Nilla Wafer / Chocolate Chip Cookies / Oatmeal Cookies / Brownies / Cream Puffs

---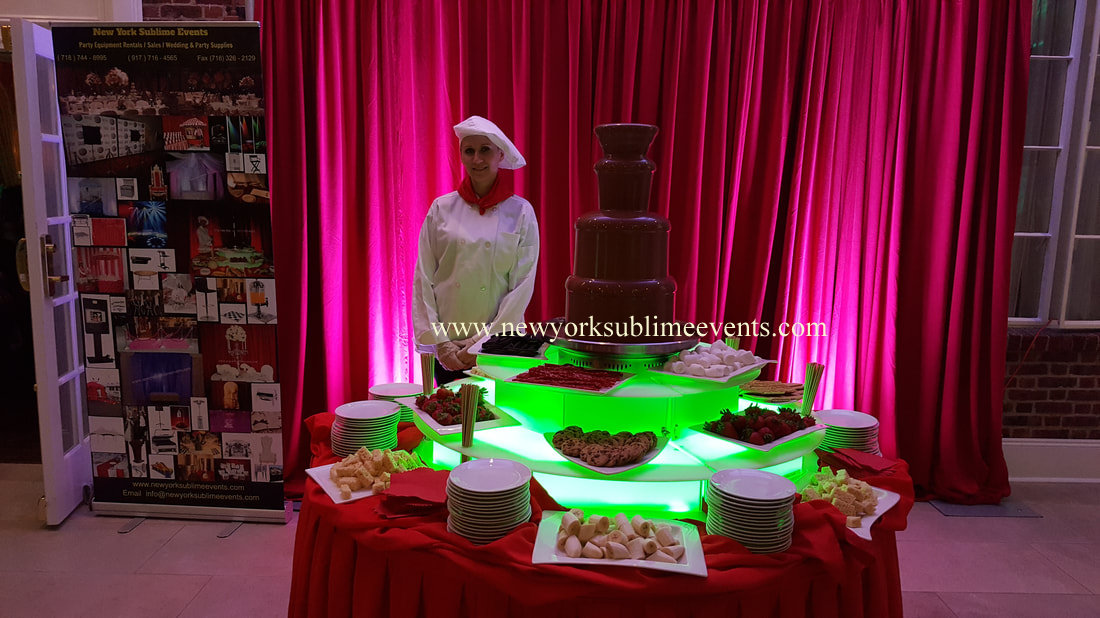 Call to reserve this chocolate fountain today:

718-744-8995 or 917-716-4565
---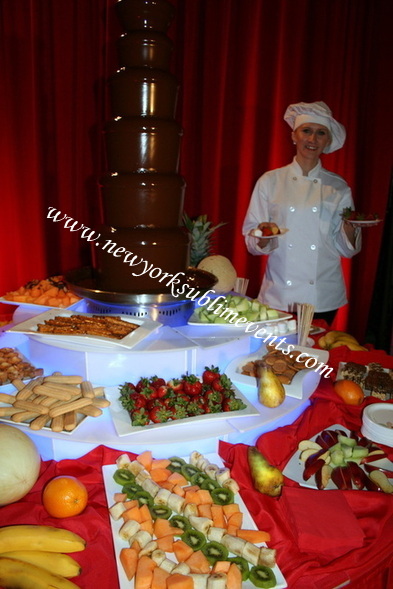 Gold Package

Your Choice Of : Milk Chocolate / White Chocolate / Dark Chocolate / Colored Chocolate ( Fee May Apply )

Three Hours of Dipping Time
Professionally Dressed Attendant

Unique custom made display with a touch of excitement
44 inch high Sephra fountain

Napkins / Skewers
Set Up / Clean up / Removal
Select 17 Dipping Items from the list: Pineapple / Banana / Strawberries / Honeydew / Cantaloupe / Apples Red / Apples Green / Grapes Red / Grapes Green / Oranges / Oreo Cookies / Pink Marshmallows / White Marshmallows / Pretzel Sticks / Rice Krispies Treats / Twizzlers / Graham Crackers / Margherite Cookies / Sugar Wafers / Nilla Wafers / Chocolate Chip Cookies / Oatmeal Cookies / Brownies / Cream Puffs

---

Call to reserve this chocolate fountain today:

718-744-8995 or 917-716-4565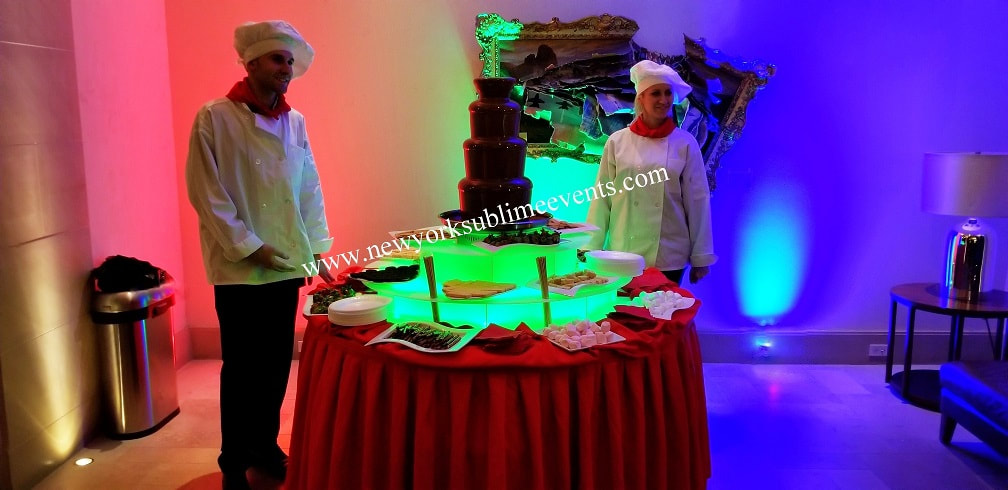 ---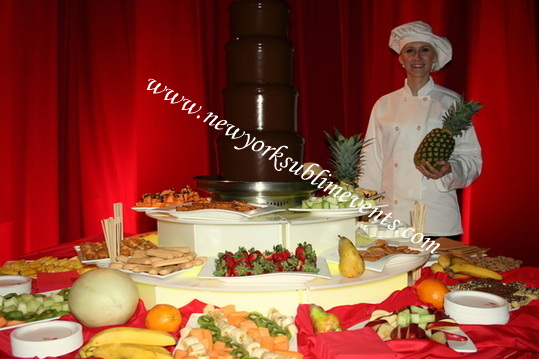 Premium Package

Your Choice Of : Milk Chocolate / White Chocolate / Dark Chocolate / Colored Chocolate ( Fee May Apply )

Three Hours of Dipping Time
Three Professionally Dressed Attendants

Unique custom made display with a touch of excitement
Two 44 inch high Sephra fountains

Napkins / Skewers
Delivery / Set Up and Removal
Select 23 Dipping Items from the list: Pineapple / Cantaloupe / Honeydew / Pears / Kiwi / Papaya / Cherries (seasonal) / Banana / Strawberries / Apples Red / Apples Green / Grapes Red / Grapes Green / Oranges / Sugar Cookies / Oreo Cookies / Pink Marshmallows / White Marshmallows / Pretzel Sticks / Rice Krispies Treats / Twizzlers / Graham Crackers / Margherite Cookies / Sugar Wafers / Nilla Wafers / Chocolate Chip Cookies / Biscottis / Mini Muffins / Cream Puffs / Mini Doughnuts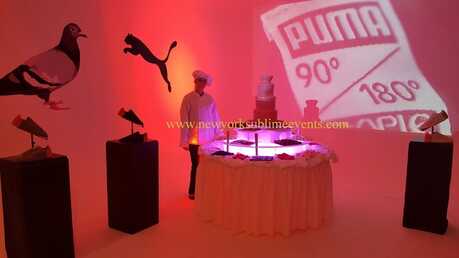 ---

We also offer other services that will make your event a huge success:


---



Chocolate Fountain Rental in NY, NJ, PA, CT



New York, NYC, Manhattan, Long Island, Queens, Brooklyn, Bronx, Staten Island, New Jersey, Connecticut, Eastchester, Westchester, Pennsylvania